Delve into the world of slot machines with our comprehensive Pokies Glossary. Unlock the mysteries of online pokies as we guide you through a rich tapestry of terms and concepts. From paylines that define winning combinations to the intricate details of paytables that reveal potential payouts and bonuses, this glossary equips you with the knowledge to navigate the exciting realm of slot gameplay.
Whether you're a novice seeking to unravel the jargon or a seasoned player looking to deepen your understanding, our Pokies Glossary is your essential companion on this exhilarating journey through the universe of slot machines.
Best Pokies Casinos to Test Our Glossary
Types of Online Pokies Glossary
3-reel slot: A classic slot machine with three vertical spinning reels. Players aim to match symbols along a single payline to win.
5-reel slot: A modern slot machine with five vertical spinning reels. This type often offers more paylines and bonus features compared to 3-reel slots.
All-ways slots: Slot machines without fixed paylines offer numerous ways to win through combinations of matching symbols across adjacent reels.
Branded slots: Slot machines themed around famous figures, movies, TV shows, or other franchises, creating an immersive and familiar gaming experience.
Classic slots: Traditional single-coin slot machines with one payline and straightforward gameplay, often using symbols like fruits, bars, and lucky sevens.
Five-liner: A three-reel slot machine featuring five different paylines, providing players with multiple ways to achieve winning combinations.
Mechanical slots: Physical slot machines with physical configurations, often featuring a lever crank to spin the reels, reminiscent of early slot machines.
Megaways slots: A dynamic slot design with various symbols on each reel, resulting in many potential winning combinations.
Multi-line bonus slot machine: A video slot machine with more than one payline and additional bonus symbols or features to enhance the gaming experience.
Multi-line slots: Slot machines featuring multiple paylines provide players more chances to win by matching symbols across different patterns.
Penny slots: Slot games that allow players to bet as low as one cent per payline, making them a budget-friendly option.
Progressive slot machines: Slot machines contribute to a progressive jackpot, with the jackpot value increasing each time a player makes a wager.
Two-liner: Similar to a one-liner, but with two paylines for potential winning combinations.
Video slots: Modern electronic slot machines with computerized reels and interactive graphics, offering various bonus features and engaging gameplay.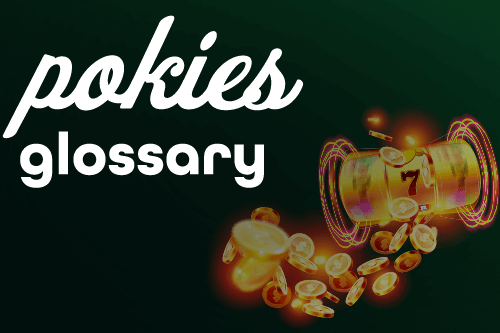 Pokies Glossary: Gameplay and Features
Buttons: Pokies Glossary
Autoplay: A function that allows players to set the slot machine to automatically spin the reels a predetermined number of times without manual input.
Autospin: Similar to auto-play, autospin enables players to set a specific number of spins to be automatically played in succession.
Bet max: The action of placing the maximum allowable bet per spin.
Bet min: The action of placing the minimum allowable bet per spin.
Bet one: Betting a single coin or credit per spin.
Bet per line: The amount wagered on each payline for each spin.
Bet: The amount of money wagered on a single spin of the slot machine.
Buy a feature: A feature that enables players to purchase access to a bonus game or round using their current bet.
Buy a pay: A type of slot machine where players can unlock additional winning combinations by placing higher bets.
Gamble feature: A bonus feature that allows players to gamble their winnings by choosing the outcome of a particular event, such as a card draw.
Gamble feature: An optional bonus game that lets players wager their winnings on a chance-based event for the opportunity to double or lose their prize.
Pick me: A bonus feature that allows players to select from a set of items to reveal hidden prizes.
Second screen bonus: A bonus round that transports players to a different screen with unique gameplay and potential rewards.
Skill stop: A feature that lets players manually stop the spinning reels, adding an element of control to the game.
Bonus Games: Pokies Glossary
Bonus features and rounds: Various in-game rewards that enhance gameplay, including expanding wilds, re-spins, pick-me games, and second-screen bonus rounds.
Free spins: A bonus feature that provides players with a set number of spins without requiring additional wagers.
Megaways slots: Slot machines with a dynamic reel configuration that offers a high number of potential winning combinations.
Progressive jackpot: A continuously growing jackpot that increases as players make bets until it is won.
Scatter pay: Slots with specific symbols that pay out regardless of their position on the reels, often triggering bonus features.
Win-both-ways slots: Slot machines allow winning combinations to be formed from left to right and right to left.
Symbols & Special Icons
Cascading reels: Also known as avalanche or tumbling reels, symbols from winning combinations disappear, allowing new icons to fall into their place.
Expanding reels: A feature that increases the number of rows or reels during specific gameplay, providing more ways to win.
Expanding wilds: Wild symbols that expand to cover entire reels, increasing the odds of forming winning combinations.
Multiplier: A bonus feature that multiplies the value of a winning combination by a predetermined factor.
Nudge: A feature that allows players to move individual reels up or down slightly to create a winning combination potentially.
Stacked symbols: Symbols landing on top of each other on a reel, increasing the potential for winning combinations.
Stacked wilds: Wild symbols that appear stacked on the reels, potentially covering entire reels and increasing the chances of winning.
Tumbling reels: A feature where winning symbols disappear, allowing new symbols to fall into their place and potentially create additional wins.
Wild multiplier: A wild symbol that substitutes for other symbols and multiplies the win when included in a winning combination.
Wild symbol: A special symbol that can substitute for other symbols on the reels to create winning combinations.
Paylines and Paytables
Paylines: Pokies Glossary
Pokies paylines are essential elements of slot machines that determine how winning combinations are formed across the reels. They are predefined patterns along which matching symbols must align to create a winning outcome. Paylines can be straight, diagonal, or even zig-zag across the reels, and the number of paylines can vary from slot to slot.
Single Payline: The simplest form of a payline, consisting of a single row across the centre of the reels. Players need matching symbols on this line to win.
Multiple Paylines: Modern slot machines often feature multiple paylines, which can be horizontal, vertical, diagonal, or even form complex shapes. Players have more opportunities to create winning combinations.
Fixed Paylines: These are paylines that are permanently active and cannot be adjusted. Players must bet on all of them in each spin.
Selectable Paylines: Players can choose the number of paylines they wish to bet on in some slots. This flexibility allows for different betting strategies.
Paytables in Online Pokies
The paytable is a crucial component of every slot machine as it provides players with information about the value of each symbol, winning combinations, bonus features, and potential payouts. It's like a roadmap that guides players through the game's rules and rewards.
Symbol Values: The paytable displays the value of each symbol, including the base game symbols, wild symbols, and scatter symbols.
Winning Combinations: It lists all possible winning combinations, often showing how many symbols are required for a win on each payline.
Payouts: The paytable indicates the payout amount for each winning combination, often based on the player's bet size. Some symbols might offer higher payouts than others.
Bonus Features: The paytable may detail any special bonus features in the game, such as free spins, multipliers, and bonus rounds.
Scatter Symbol Information: If the game includes scatter symbols, the paytable explains their role, potential payouts, and how they trigger bonus features.
Wild Symbol Information: Information about wild symbols, including how they substitute for other characters and their role in forming winning combinations.
Payline Patterns: The paytable might include a diagram showing the patterns of paylines across the reels.
Using the Paytable
Players consult the paytable to understand the potential outcomes of their spins. By studying the symbol values and combinations, players can strategize their bets to maximize their chances of winning. The paytable informs players about the game's volatility, as higher payouts for certain symbols may indicate a higher-risk, higher-reward game.
In summary, paylines and paytables are integral aspects of slot machine gameplay, providing players with the information they need to understand the game's mechanics, potential rewards, and strategies. Players can make informed decisions and enhance their slot machine experience by grasping these pokies glossary terms.
More Online Pokies Guides