In a world where gambling has become a popular form of entertainment, it is crucial to prioritise responsible gambling practices. Understanding the importance of responsible gambling can help ensure a safe and enjoyable gaming experience for all.
This comprehensive guide aims to equip you with essential knowledge about responsible gambling, its significance, and the measures you can take to promote a healthy approach to gaming.
From setting limits and self-assessment to accessing support resources, this guide will empower you with the tools necessary to make informed decisions and maintain control while indulging in the excitement of online gaming.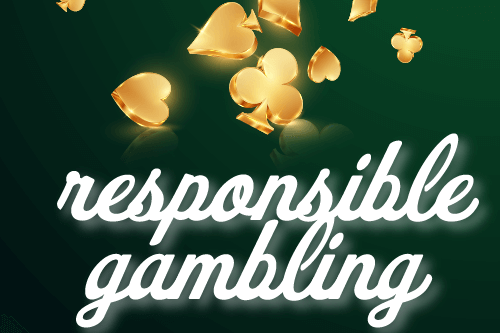 Understanding Gambling: How It Works
In various forms, gambling captivates millions worldwide with its blend of risk, anticipation, and the possibility of winning big. However, to embark on a journey of responsible gambling, it is essential to have a solid understanding of what gambling entails.
At its core, gambling refers to placing a wager or betting on an uncertain outcome to win money or other valuable prizes. It encompasses various activities spanning casinos, sports betting, poker rooms, lottery games, online platforms, and more. Each form of gambling offers its unique rules, strategies, and odds.
Physical and online casinos serve as epicentres for various gambling activities. They offer multiple games, such as slot machines, roulette, blackjack, poker, and baccarat, each with its own rules and probabilities. These games rely on skill and chance, providing an exhilarating experience for players.
Online gambling platforms have revolutionised the accessibility and convenience of gambling, enabling individuals to enjoy a vast array of games from the comfort of their homes. Virtual games offer interactive and immersive experiences with stunning visuals and engaging gameplay.
Understanding the dynamics of gambling involves grasping key concepts like odds, probabilities, and house edges. First, it's crucial to recognise that gambling outcomes are predominantly determined by chance, with the house holding an inherent statistical advantage. This recognition sets the stage for responsible gambling practices, emphasising the importance of managing expectations, setting limits, and embracing a mindset of entertainment rather than relying on gambling as a source of income.
By developing a comprehensive understanding of the intricacies of gambling, you can approach it with an informed perspective, making conscious decisions while balancing the excitement and risks associated with this popular form of entertainment.
Navigating the Shadows: Risks of Problem Gambling
While gambling can provide excitement and entertainment, it is essential to acknowledge the potential risks associated with problem gambling. Problem gambling is a situation where gambling begins to have adverse effects on an individual's life, leading to negative consequences. Therefore, understanding these risks is crucial to ensure responsible gambling practices and maintain a healthy balance.
Problem gambling can manifest in various ways, and its impact can be profound. For example, individuals experiencing problem gambling may be unable to control their gambling habits, leading to significant financial losses and strained relationships. In addition, the allure of potential winnings and the adrenaline rush of gambling can escalate into addictive behaviour, resulting in a loss of control over time and money spent on gambling activities.
Financial consequences are a primary concern for problem gamblers. In their pursuit of winning, individuals may wager more money than they can afford to lose, leading to financial instability, debt, and even bankruptcy. This financial strain can permeate other aspects of life, causing stress, anxiety, and a deteriorating quality of life.
Problem gambling also takes a toll on personal relationships and social well-being. For example, compulsive gambling can lead to secrecy, dishonesty, and a breakdown in trust with loved ones. In addition, the preoccupation with gambling may cause individuals to withdraw from social activities, isolating themselves and exacerbating feelings of loneliness and depression.
Mental health is another area impacted by problem gambling. The stress, guilt, and shame associated with financial losses and addictive behaviour can contribute to anxiety, depression, and even thoughts of self-harm. Seeking professional help and support is crucial for addressing these underlying mental health issues and breaking the problem gambling cycle.
Help for Problem Gambling
Gamblers Anonymous: get free counselling at gaaustralia.org.au
Problem Gambling Help Online: call 1800-858-858 or visit Essential Guidelines for Responsible Gambling

Responsible gambling guidelines serve as a compass to navigate the exciting world of gambling while promoting self-control and maintaining a healthy balance. By adhering to these guidelines, you can enhance your gaming experience, minimise risks, and foster a sustainable approach to gambling.

Set Limits

Establish clear boundaries for time and money spent on gambling activities. Determine how much time and money you can comfortably allocate to gambling, and stick to those limits.

Self-Assessment

Regularly assess your gambling habits and behaviours. Be honest about any signs of excessive gambling or negative impact on your life. Self-awareness is critical to early intervention and seeking help if necessary.

Budgeting for Responsible Gambling

Practice effective bankroll management by creating a gambling budget. Then, allocate a specific amount of money dedicated solely to gambling and avoid exceeding this predetermined limit. Remember, gambling should never interfere with essential financial responsibilities.

Avoid Underage Gambling

Gambling is strictly for adults. Ensure you are of legal gambling age and prevent underage individuals from accessing gambling activities. Parents and guardians play a vital role in educating and supervising minors to prevent gambling-related harm.

By following these responsible gambling guidelines, you can control your gambling habits, minimise the risk of developing problematic behaviour, and create a safer and more enjoyable gambling experience. Remember, gambling should always be viewed as a form of entertainment rather than a means of making money, and responsible gambling practices are essential to ensure it remains as such.

Essential Tools and Resources for Responsible Gambling

Leveraging various tools and resources designed to promote self-control and provide support is crucial in pursuing responsible gambling. These tools empower individuals to make informed decisions and maintain a healthy balance while engaging in gambling activities.

Self-Exclusion: Self-exclusion programs allow individuals to voluntarily exclude themselves from gambling platforms or physical venues for a specified period. This tool provides a helpful barrier for those struggling with excessive gambling behaviours.
Reality Checks: Many online gambling platforms offer reality check features that remind players of their session duration. Regular prompts can help players maintain awareness of time spent gambling, promoting responsible play.
Deposit Limits: Setting deposit limits ensures you don't exceed your predetermined budget. Online gambling operators often provide options to set daily, weekly, or monthly deposit limits, helping you stay within your financial boundaries.
Cooling-Off Periods: Taking a break from gambling is essential for maintaining control. Cooling-off periods enable individuals to temporarily suspend their gambling accounts for a specific duration, allowing time for reflection and regaining control.
Links to Support Organisations: Accessing gambling helplines and support organisations is crucial. These resources offer professional assistance, counselling, and guidance for individuals seeking help with problem gambling or those affected by someone else's gambling habits.

Individuals can take proactive steps towards responsible gambling using these tools and resources. They act as support pillars, helping individuals maintain control, access assistance when needed, and promote a safer gambling environment. Remember, responsible gambling is a journey, and leveraging these resources is a testament to your commitment to maintaining a healthy relationship with gambling.

Strategies for Embracing Responsible Gambling

Responsible gambling is not just a set of guidelines; it's a mindset that guides your actions and decisions while engaging in gambling activities. Implementing responsible gambling practices in your gameplay can significantly enhance your overall experience. Here are key strategies to embrace responsible gambling in practice:

Play for Entertainment, Not Profit: Approach gambling as entertainment rather than a means to make money. Set realistic expectations and enjoy the thrill of the game without fixating on financial gains.
Taking Breaks and Setting Time Limits: Take regular breaks to avoid prolonged gambling sessions. Set time limits for your gambling activities to maintain a healthy balance with other aspects of life.
Avoid Gambling When Under the Influence: Substance use impairs judgment and decision-making abilities. Refrain from gambling when influenced by alcohol or drugs to ensure responsible decision-making.
Gambling Etiquette: Respect other players and staff at gambling establishments. Follow the rules, be considerate, and maintain a friendly atmosphere during social gambling experiences.
Avoiding Superstitions and Myths: Recognise that gambling outcomes are determined by random chance and not influenced by superstitions or lucky rituals. Base your decisions on facts and probabilities rather than unfounded beliefs.

Adopting these strategies can infuse responsible gambling into your gaming routine. Embrace a mindful and balanced approach, fostering a safer and more enjoyable gambling experience while minimising the risks associated with excessive play. Remember, responsible gambling is about maintaining control, having fun, and preserving the integrity of the game.

Gambling Wisely, Winning Responsibly

As we end this comprehensive guide on responsible gambling, it is vital to reflect on the fundamental principles and takeaways that empower us to make informed choices while indulging in the excitement of gambling.

Responsible gambling is not just a concept; it is a commitment to maintaining control, setting boundaries, and prioritising the well-being of oneself and loved ones. By embracing responsible gambling practices, we can elevate our gaming experiences while mitigating the risks associated with excessive play.

Responsible gambling is about setting limits, practising self-awareness, and seeking support when needed. It is about approaching gambling with a mindset of entertainment rather than financial gain. By integrating these principles into our gaming routine, we foster a healthier relationship with gambling and promote a safer gambling environment for all.

As you embark on your gambling journey, we encourage you to refer to this guide whenever needed. Stay informed, stay in control, and make responsible gambling a cornerstone of your gaming experience. Let us uphold the values of responsible gambling, ensuring that the thrills of the game are matched with wisdom and responsibility.

May your future endeavours in gambling be marked by poise, enjoyment, and responsible choices. So play wisely, play responsibly, and may the odds forever be in your favour.