Recently updated on May 16th, 2023
If you're an avid pokie player, you've probably heard of "Pokie Variance." But do you understand what it means and how it can impact your winnings? In this guide, we'll dive into pokie variance, explaining what it is, how it works, and why it matters.
You'll learn about the different types of variance levels, including low, medium, and high, and how they affect your chances of winning. We'll also share tips and strategies for playing pokies based on their volatility level, so you can maximise your winnings and master the art of playing pokies like a pro.
Best Casinos to Test Pokie Variance
Choose Your Luck: Understanding Pokie Variance to Boost Your Winnings
When it comes to playing pokies, understanding the concept of variance can make a difference in your gameplay experience. The variance of a pokie determines the risk and reward associated with the game and can significantly impact your chances of winning big.
In this section, we'll break down the different types of pokie variance, including low, medium, and high, and what they mean for your gameplay. We'll also discuss the pros and cons of each variance level and how to choose the right level for your playing style. With this knowledge, you can select your luck and boost your chances of hitting the jackpot on your favourite pokies.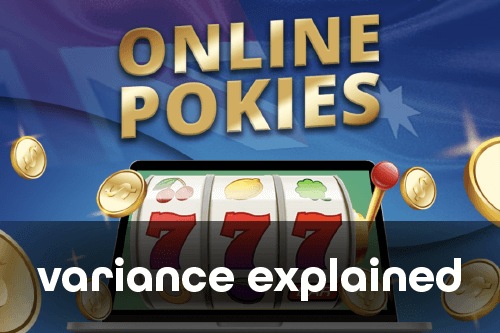 Low-Variance Pokies
Low-variance pokies are games that offer frequent payouts, but the payouts are typically smaller in value. These pokies are often preferred by players looking for extended gameplay, as they provide a higher chance of winning smaller payouts more frequently. Low-variance pokies are also ideal for players with a smaller bankroll, as they allow longer playing sessions without risking too much of their budget. Some typical features of low-variance pokies include:
High hit frequency: Low-variance pokies have a high hit frequency, meaning players can expect to win frequently.
Low-risk gameplay: As the name suggests, low-variance pokies offer a lower-risk gameplay experience, making them perfect for players who want to enjoy longer sessions without fearing losing money.
Simple gameplay: Low-variance pokies often have more straightforward gameplay mechanics, making them easy to understand for beginners.
However, it's important to note that low-variance pokies typically offer lower payouts than medium or high-variance pokies. Therefore, low-variance pokies may not be the best choice for players looking for big payouts and high-risk gameplay. Overall, low-variance pokies are an excellent option for players who enjoy extended gameplay and want to stretch their bankroll.
Medium-Variance Pokies
Medium-variance pokies offer a balance between low and high-variance games. These games provide a mix of small and big payouts, making them a popular choice among players looking for a bit of risk and reward in their gameplay experience. Medium-variance pokies typically offer a higher payout rate than low-variance pokies while still providing a reasonable chance of winning substantially.
Some standard features of medium-variance pokies include:
A balance of risk and reward: Medium-variance pokies balance frequent and larger payouts, making them an excellent choice for players who want a bit of both.
Varied gameplay mechanics: Medium-variance pokies often have more varied gameplay mechanics than low-variance pokies, providing players with a more engaging gaming experience.
Suitable for most players: Medium-variance pokies are a good choice for players of all skill levels and bankroll sizes.
However, it's important to note that medium-variance pokies can still have dry spells where players may experience long periods without significant wins. Additionally, players looking for a more consistent gameplay experience may prefer low-variance pokies. Overall, medium-variance pokies are an excellent option for players who want a mix of risk and reward in their gameplay experience.
High-Variance Pokies
High-variance pokies are games that offer infrequent but more significant payouts. These pokies are popular among players looking for the chance to win big and willing to take on a higher level of risk. High-variance pokies typically have a lower hit frequency than low and medium-variance games, meaning players may experience longer periods of gameplay without a win.
Some shared features of high-variance pokies include:
Large payouts: High-variance pokies offer the chance to win giant payouts, sometimes even in the millions.
High-risk gameplay: High-variance pokies have a higher risk, as players may experience longer dry spells before hitting a significant win.
Engaging gameplay mechanics: High-variance pokies often have more engaging and complex gameplay mechanics, providing players with a more immersive gaming experience.
However, it's important to note that high-variance pokies require a larger bankroll and a higher level of skill and strategy to play effectively. Therefore, players not prepared to take on the risk associated with high-variance pokies may be better off playing low or medium-variance games instead. Overall, high-variance pokies are an excellent option for players looking to win big and willing to take on a higher level of risk.
How Pokies Work at Australian Online Casinos
Pokies, or slot machines as they are known in other parts of the world, are some of the most popular games in casinos. They offer a simple yet exciting gameplay experience with the chance to win big. But have you ever wondered how pokies work? In this guide, we'll take a closer look at the inner workings of pokies, including Random Number Generators (RNGs), paylines, and bonus features, to help you understand how to maximise your winnings.
Mastering Pokies: Effective Strategies for Winning Big
Pokies are games of chance, and there is no guaranteed way to win every time. However, there are some strategies you can use to increase your chances of winning and maximise your payouts. In this guide, we'll explore some effective strategies for playing pokies and winning big.
Dominate the Reels: Final Tips for Conquering Pokie Variance
Congratulations! You've now gained valuable insights into the world of pokies and discovered effective strategies to enhance your chances of winning big. So, as you embark on your pokie-playing journey, remember these final tips to dominate the reels and maximise your success.
Stay Informed: Stay updated on the latest pokie releases, industry trends, and casino promotions. By staying informed, you can take advantage of new games with exciting features and bonuses and capitalise on special offers and promotions that can boost your bankroll.
Practice for Free: Before wagering real money, use the free play or demo mode online casinos offer. This lets you familiarise yourself with the game mechanics, bonus features, and paytable without risking your funds. In addition, use this opportunity to develop and fine-tune your strategies.
Set Limits: Establishing personal limits is crucial for responsible gambling. Set limits on the time and money you dedicate to playing pokies. This will help you control your gaming activities and prevent excessive losses.
Play Within Your Means: Always play with a budget that you can comfortably afford to lose. While winning is undoubtedly exciting, it's essential to approach pokie play with the understanding that losses can occur. You can enjoy the experience without financial stress by playing within your means.
Have Fun: Remember that pokies are primarily about entertainment. Enjoy the thrill of the game, the captivating themes, and the immersive gameplay. While winning is the ultimate goal, the journey itself should be enjoyable. Maintain a positive mindset, and celebrate both small and big wins.
Explore Online Casinos: Online casinos offer a wide selection of pokies, often with better payout percentages and more generous bonuses than brick-and-mortar establishments. Take advantage of online casinos' convenience, variety, and potential rewards.
You can significantly improve your pokie-playing experience by implementing these strategies and tips. So dominate the reels, maximise your winnings, and have a thrilling adventure with every spin. Remember, the key is approaching pokie play with knowledge, discipline, and a bit of luck. Now, it's time to put your skills to the test and conquer the world of pokies like a true champion. Best of luck!
More Online Pokies
Pokie Variance FAQs