Where's the Gold Slot is your best selection when you are looking for a slot game with some fantastic software packages that offer player intuition and interesting free spins. Supported and developed by Aristocrat, Where's the Gold Slot is poised to be a firm contender in this array of competition.
Where's the Gold Slot is the best way to play under desert scenery, a modern contender for both slot wins and entertainment supply. Let us delve into the gaming overview below to get more detail.
Best Aristocrat Casinos
Where's the Gold Slot Overview
Though the slot has a disappointing bonus and special features section, players can still shed a huge smile on how much gain is obtained through free spins.  Actually, this is the climax of the game when it comes to lucrative deals.
Expect some massively displayed background covers and explicit animated graphical extensions, which make plays very exceptional. This is pretty cool actually because you get to earn while gaining a lot of entertainment.
Where's the Gold Slot is one modern slot which will leave you amazed. Be prepared to go over a well-tailored free play mode meant to equip yourself with enough expertise. Check out five reels and three rows which are accompanied by a total of 25 pay lines.
There is nothing strange really about the slot game, and do not expect any complications because the idea is that you enjoy and gain much experience while winning at the same time.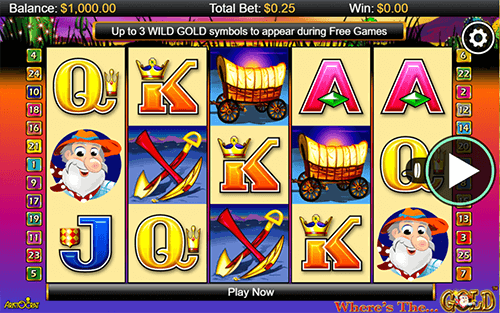 Where's the Gold Slot Gameplay
Looking at gameplay factors, we have to note the presence of a free play mode. What is it anyway? Well, this is a preparatory feature that allows players to play a demo mode before wagering and staking real money.
This means that gameplay becomes easily understandable. Free versions are also spectacular in discarding any silly losses. The gameplay is pretty interesting because as you move from reel to reel, you are not even discouraged but motivated but gameplay features.
For more experience on the wild icon, check out the base. It's located in the free spin feature. What about the scatter? Well, it comes in the form of lighted dynamite. This is also possible even if a player has two dynamites aligned on the payline.
The Miner appears to be the most lucrative icon around. Obviously, we are referring to some fantastic payouts looking at the names themselves. Through the Miner, players can obtain 1000x of placed bets.
However, this is only possible if a player manages to strike 5. To conclude the icon deck, you also have a shovel, wagon, and mining door, tools and important mining equipment used in the real world.
For simple spotting of other icons, check out playing cards that are reasonably profitable, managing a 100 – 110x payout opportunity. What about the actual bet range? The respective bet range is pretty simple because it starts from 0.01 to 4. This range is obviously positioned on all lines.
There is always a big enough opportunity for high-bidding players to obtain small and large payouts. More interestingly enough is the 1000x payout, which can be clinched on a line bet. Though players cannot obtain massive jackpots, opportunities to obtain decent winnings are high, especially through the game button.
Bonus Features for Players
Remember, Where's the Gold Slot does not have mouthwatering bonus jackpots and payouts. However, free spins come in and replace that vacuum. We shall explain the feature in detail below.
Free Spins Feature
To activate the free spin feature, make sure to align three dynamites or more on the symbols grid.
Also, be on the lookout for ten extra free spins. With a gaming efficiency ranging between 92% and 95%, Where's the Gold slot comes with considerable medium volatility. Opportunities to gain decent payouts are high, while nice winnings can be clinched with ease.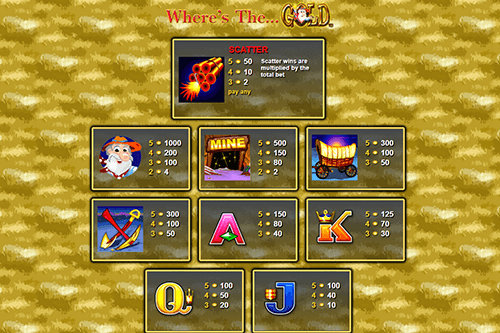 Where's the Gold Final Rating
From what is on offer, players can rest assured of a bonus section that is really odd but considerable options for players to gain meaningful rewards through the free spin feature. Spinning the reels has never been better with Where's the Gold Slot.
You are not only engaging in a good game, but you are also enjoying massive entertainment. This is a good chance to get some gold.
With such important wilds and nice winnings, nothing can actually go wrong. This is the best slot gaming opportunity that has been tailored with so much dedication, all thanks to Aristocrat. Utilizing the free play mode should be on the top of the chain. It's a very strategic move to gain as much experience as possible through demos.
Make sure you understand all there is to know about Where's the Gold Slot gameplay. That way, you are enlarging your winning chances. There is so much fun in free spins, the centre of the bonus section. For all these reasons, we decided to award Where's the Gold slot 4/5 stars.