Please read these terms of service ("terms of service," "Agreement") carefully before using [https://www.acepokies.com/] ("website," "service") operated by [Ace Pokies] ("us," "we," "our").
Last Updated: 1 June 2023
1. Conditions of Use
1.1. By accessing or using the Website, you agree to accept and comply with these terms of service, the Privacy Policy terms, conditions, notices, and disclaimers contained elsewhere (collectively referred to as "Terms of Service"). If you do not want to be bound by the terms of this Agreement, you are advised to leave the Website accordingly. Ace Pokies only grants use and access to this Website, its products, and its services to those who have accepted its terms.
1.2. Ace Pokies reserves the right to amend the Terms of Service without notice. Therefore, we encourage you to check this document regularly.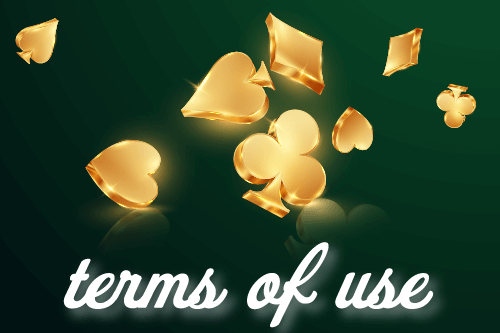 2. Privacy Policy
2.1. Before you continue using our Website, we advise you to read our privacy policy regarding user data collection. It will help you better understand our practices.
3. Age Restriction
3.1. All users must be over 18 (eighteen) years of age before using this Website. By using this Website, you warrant that you are at least 18 years of age and may legally adhere to this Agreement.
3.2. Ace Pokies assumes no responsibility for liabilities related to age misrepresentation.
3.3. The Site and the materials incorporated therein are not designed to appeal to or target those who have not yet reached the legal age for gambling. If you are not of legal age, you must immediately stop using or accessing the Site and the Services.
4. Intellectual Property Terms
4.1. Ace Pokies and its licensors (as applicable) own all software, data, written materials, and other content, graphics, forms, artwork, images, pictures, graphics, photographs, functional components, animations, videos, music, audio, text, and any software concepts and documentation and other material on, in, or made available through the Site.
4.2. You agree that you will not reproduce or redistribute Ace Pokies's intellectual property in any way, including electronic, digital, or new trademark registrations.
4.3. You grant Ace Pokies a royalty-free and non-exclusive license to display, use, copy, transmit, and broadcast the content you upload and publish. You should contact the company for issues regarding intellectual property claims to agree.
5. Applicable Law
5.1. By visiting Ace Pokies, you agree that the laws of Australia, without regard to principles of conflict laws, will govern these terms and conditions or any dispute of any sort that might come between Ace Pokies and you or its business partners and associates.
6. Disputes Terms
6.1. Any dispute related to your visit to this Website or products you purchase from us shall be arbitrated by state or federal courts in Australia, and you consent to such courts' exclusive jurisdiction and venue.
7. Competitions, Promotions & Bonuses
7.1. Certain parts of the Website may contain promotions, competitions, or bonuses from third parties. The terms and conditions for those promotions, contests, or bonuses will be specified on the relevant part of the Website from time to time.
7.2. By participating in the relevant competition or promotion or claiming a bonus, you agree to be bound by the applicable terms and conditions of this Website or the terms and conditions of the third-party Site.
7.3. Notwithstanding any specific terms and conditions, Ace Pokies retains the right, at any time and without notice, to remove, alter or add bonuses, promotions, or competitions on the Website without any liability to you.
8. Disclaimer and Liability
8.1. Ace Pokies is provided "as is." While Ace Pokies has used its best endeavours to ensure that the information contained on and accessed through the Website is correct and current at the time of publication, Ace Pokies does not accept responsibility for any error, omission, or defect in the information.
8.2. The material contained on this Site is provided for general information purposes only. To the fullest extent permissible by law, Ace Pokies and its agents:
(a) Do not make any representation, warranty, or endorsement of any kind, express or implied, as to the operation of the Website, your access to the Website or results of your access, or the information, content, materials, or products on the Website; and
(b) Do not warrant that the functions on the Website will be uninterrupted or error-free, that any defects will be corrected, or that the server which stores and transmits content to you are free of viruses or other harmful components.
8.3. Subject to any non-excludable liability for breach of conditions or warranties implied by legislation and to the maximum extent permitted by law, under no circumstances (including but not limited to any act or omission on the part of Ace Pokies, its contractors, agents, employees, and directors) will accept liability for any direct, indirect, incidental, unique, and consequential damages or loss of profits resulting from any use or access, or any inability to use or access the Website.
8.4. Unless specific provisions of the legislation are quoted, Ace Pokies does not make statements of the law concerning any matter. Therefore, the comments on this Website about the law are summaries that may not be comprehensive or complete. If you wish to know the law, you should go to the relevant law or obtain advice from a qualified professional such as a solicitor.
9. Indemnification Terms
9.1. You agree to indemnify and keep indemnified Ace Pokies and its employees ("those indemnified") in respect of any claim, liability, loss, damage, cost (including legal fees), or expense which those indemnified may suffer or incur as a direct or indirect result of your willful or negligent act or omission concerning your use of the Website (or any part of it) or the violation of these Terms of Service by you, or the infringement by you, of any intellectual property or other rights of any person or entity.
10. Gaming Services
10.1. The Website, Website content, and Services provide entertainment and entertainment information only. It may contain references to, links, or advertises third-party content related to online gaming and gambling services. Your sole obligation is to fully comply with any law or regulation applicable to the country you are located in regarding using our Website.
11. Disclaimer: Terms
11.1. General Disclaimer
11.1.1. The information on [Your Website URL] is for general informational purposes only. We strive to ensure the accuracy and currency of the information presented on the Website. However, we make no representations or warranties of any kind, express or implied, regarding the completeness, accuracy, suitability, reliability, or availability of the Website or the information, products, services, or related graphics contained on the Website for any purpose.
11.1.2. Any reliance on such information is strictly at your own risk. Accordingly, you should seek professional advice or conduct your research before making any decisions based on the information provided on this Website.
11.2. Third-Party Content Terms
11.2.1. Ace Pokies may provide links to third-party websites or resources. These links are provided for your convenience and do not signify our endorsement or approval of those websites' content, products, services, or information.
11.2.2. We have no control over the nature, content, and availability of those sites and resources. Therefore, including links does not necessarily imply approval or endorse the views expressed within them.
11.3. User-Generated Content
11.3.1. Ace Pokies may allow users to submit their reviews, comments, or other content on the Website. However, we do not endorse or verify such user-generated content's accuracy, completeness, or quality.
11.3.2. Any views or opinions expressed by users are their own and do not represent the views of Ace Pokies. We disclaim any liability for any user-generated content posted on the Website.
11.4. Availability and Accessibility
11.4.1. We strive to ensure that the Website is available and accessible at all times. However, we do not guarantee uninterrupted, timely, secure, or error-free access to the Website.
11.4.2. We reserve the privilege to modify, suspend, or discontinue any aspect or feature of the Website without prior notice.
11.5. Limitation of Liability
11.5.1. To the maximum extent permitted by applicable law, Ace Pokies and its agents shall not be liable for any direct, indirect, incidental, consequential, or punitive damages, including but not limited to loss of profits, data, or business interruption, as a result of or in relation with the use of or inability to use the Website, even if Ace Pokies has been advised of the possibility of such damages.
11.6. Indemnity Terms
11.6.1. You agree to indemnify, defend, and hold harmless Ace Pokies and its agents from any claims, damages, losses, liabilities, costs, or expenses (including legal fees) as a result of or in relation with your use of the Website or any violation of these terms of service.
11.7. Changes to Terms of Service
11.7.1. Ace Pokies reserves the right to modify or update these terms of service at any time without prior notice. Therefore, you are responsible for periodically reviewing the terms of service for any changes.
By using [https://www.acepokies.com/], you acknowledge and agree to the above disclaimer and terms of service.