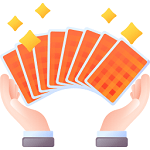 Loads of people are looking to play video poker online. This is not exactly surprising. This game, a hybrid between poker and slot machines, provides players with a unique gaming experience.
Quite simply, once you try this famous casino game, it will become your go-to gambling game when you play online.
Below we look at all you need to know about playing online video poker for real money at top-rated gambling sites, including how to play, the variations available, and so much more.
Best Online Video Poker Sites
How to Play Video Poker

Video poker is probably one of the easiest games to learn how to play. Initially, many players are put off by the fact that it lends some elements from poker. However, you shouldn't really be afraid of playing this game.
The only thing video poker really borrows from traditional poker is that hand combinations of all variants are based on Five Card Draw. Outside of this, the game is simply a themed slot game.
If you are unsure of how the game works based on our simplistic description, here is a quick how-to-play guide that will get you started as soon as possible:
1.      Choose your Variation
There are many video poker variations available. Generally, the differences come in the rules, return-to-player (RTP) percentage, and paytable. Gameplaywise, it is important to know these differences so that you know what constitutes a winning combination.
Before you pick your variation, play a few video poker games online for free to decide which game truly fits your playstyle.
2.      Place Your Bet
Every gambling game starts with a bet. Most games let you place a bet between one and five coins. The value of a coin varies from games.
So, when deciding on a game, you will also need to consider the minimum and maximum bets. Just make sure that the game you choose to play is within your bet range.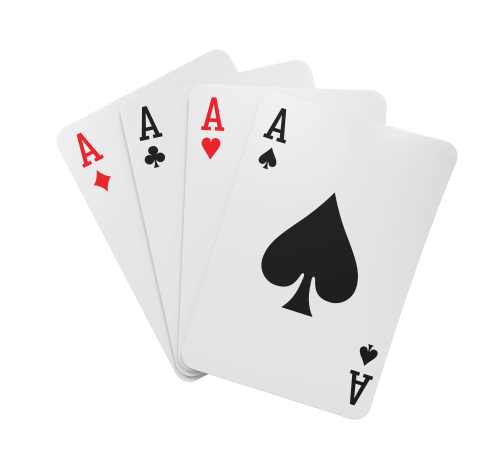 3.      Click on 'Deal'
After placing your bet, you will need to get your cards. So, click on the game's 'Deal' button, and the game will give you five cards.
4.      Consider Your Hand
After you get your cards, decide which cards you would like to keep and which you would like to throw away. After you have discarded the cards you don't want, you can click on the 'deal' button again. The cards you discarded will be replaced with new cards.
5.      Get Paid
Based on the value of your hand, you will either win or lose. As such, you will be paid out. As mentioned above, the value of the hand is based on standard poker hands. Some games may have unique rules for hands, so not all standard hands will apply to payouts.
Standard Poker Hands
Here is the standard list of poker hands used in video poker. Most variations alter the rules a bit, so it is important to ensure you read up on these rules before playing the game: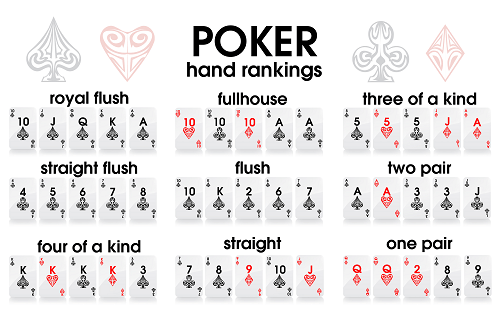 Types of Video Poker Games
There are loads of video poker variants. Most casinos allow you to play more than one variant. Here are some of the most popularly played video poker games online:
Jacks or Better
Jacks or Better is the most popular video poker variant. This is possibly because it was the first version of the game created. The lowest minimum payout is a pair of jacks, which the game's name alludes to.  Anything lower than this, and you earn nothing.
Deuces Wild
Deuces Wild is considered to be the second most popular form of video poker. In this variation, the number 2 cards act as wilds. This means that these cards can be used to complete winning combinations. Overall, it is easier to win in Deuces Wild than in Jacks or Better, reflected in the paytable.
Joker's Wild
Joker's Wild is similar to Deuces Wild, except that the Joker is included in the deck and acts as the wild. You earn a bonus for finishing winning combinations with a Joker, but the paytable of some games is still lower than others. So, consider that when picking a variation.
Double Bonus Poker
Double Bonus Poker is a spinoff of a spinoff of Jacks or Better. This game offers greater payouts for four-of-a-kind hands but has a reduced payout for the two pairs' hand. You can earn a lot of money while playing this game, but the paytable is quite harsh, seeing as two pairs get you a 1 to 1 payout.
Aces and Faces
Aces and Faces is a spinoff of Jacks or Better. The game pays out more for the four-of-a-kind hand made up of either aces or "faces" (king, queen, or jack.) The game has some good returns compared to many other poker games.
Tens or Better
Tens or better is another spinoff of Jacks or Better (we feel we should mention that most video poker games are derivatives of Jacks or Better or Deuces Wild.) The game only pays out if you have a pair of tens or better.
Online Video Poker Real Money Tips

Video poker is a game based on chance, so any strategy you use will have minimal effects on your odds of winning. However, this shouldn't deter you from trying to refine your game. Here are three tips to help you win more video poker games.
1.      Learn the Differences Between Video Poker Games
Remember that not all video poker games are the same. In fact, two versions of Jacks or Better may even differ. So, before you settle on a game, make sure that you research it by looking at its RTP percentage, house edge, paytable, progressive jackpot, and rules.
The best video poker players select games that have great odds and equally good pay tables.
2.      Learn Basic Strategy
Basic strategy isn't something limited to blackjack. Each video poker variation has its own basic strategy, which tells you how to react in different scenarios. Studying this video poker strategy will help you make better decisions.
3.      Stick with Winning Hands
Don't discard a winning hand in the hopes of getting something better. This is a surefire way to ensure that you walk away from a game with a bust bankroll. Yes, a two-pair hand may not payout better than a full house, straight flush, or royal flush, but it is better than nothing!
Play Video Poker for Money on Mobile

You can play video poker for real money on your mobile phone if you like. Most casinos have made their website compatible with iOS and Android devices, meaning you can access their services through your mobile web browser.
Some casinos have even made personalized mobile apps if you don't like needing to search for the website every time you play games.
The mobile experience is in no way sub-par to the desktop experience. The only real difference is that you are playing on a smaller screen. Aside from that, the graphics, gameplay, and jackpots are all there.
Play Free Online Video Poker Games
You can learn how to play video poker free online with the free-to-play games available at online casinos. There are so many advantages to playing free online video poker machines, including:
You get to learn how to play the game in a risk-free environment.
You get to play the game even if you don't have the cash to fund a bankroll.
It acts as an opportunity to test new strategies and see how they fare.
More Casino Games
Video Poker Online Casinos – FAQs