Recently updated on January 12th, 2023

Pot Limit Omaha poker is another exciting poker variant. This game is almost similar to Texas Hold'em, but not necessarily the same. To make it simpler to understand, we will explain it in comparison to Hold'em.
One key difference between Omaha and Texas Hold'em is that in Omaha poker, players are dealt four-hole cards instead of two. This is the basic difference between these two poker variants; we also touch on other differences below.
We introduce you to the best casinos where you can play real money Pot Limit Omaha poker. You can also read our complete guide below if you want to learn how to play Omaha poker.
Top Omaha Poker Sites 2023
What is Pot Limit Omaha Poker?
Pot Limit Omaha (PLO) poker is a limit game version of Omaha. This form of Omaha is also one of the most-played poker games.
In this game, the dealer deals each player four-hole cards. The dealer also deals four community cards. Players must use two of their hole cards to complete a hand in the showdown. This means only up to three community cards can be used along with the two-hole cards.
Both Omaha poker and Texas Hold'em poker use a blind betting method. This means that there is a small blind and a big blind. Betting also rotates clockwise, and players can call, raise, or fold.
This poker variant uses the same hand rankings as Texas Hold'em poker. A royal flush is a highest-ranking hand, and a hard hand is the lowest.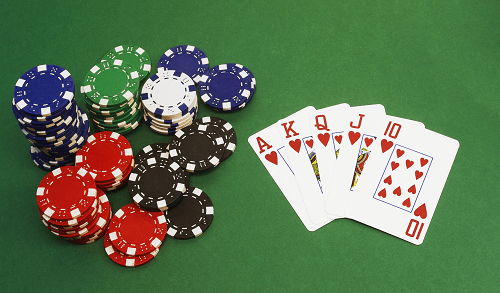 Main Differences Between Omaha Poker Versus Texas Hold'em
Although Pot-Limit Omaha poker and Texas Hold'em, poker hold many similarities. There are a few note differences between these games.
| | |
| --- | --- |
| Pot Limit Omaha Poker | No Limit Texas Hold'em Poker |
| You must use two-hole cards and the community cards to win in Omaha poker | You can use community cards alone to win |
| Players can only raise the total pot size, which includes their call | Players can bet any amount up to their stack, there is no maximum bet limit |
| Players get four-hole cards | Players are dealt two hole cards |
How to Play Omaha Poker – Pot Omaha Poker Rules
This poker game is not difficult to learn, particularly if you have played Texas Hold'em poker before. Few things stand out in this game of poker. One thing that is quite hard to grasp is the betting limit.
However, if you have a challenge with this, you can use the software when you play online. Players can also ask the dealer when to work this out when playing at a land-based casino. Below are the basic Pot Limit Omaha poker game rules:
Each player is dealt four-hole cards, all face down
Players must play two of their hole cards and community cards
There are five community cards in total
Players are limited to only raise up to the pot limit (the size of the pot, including their call)
Like in Texas Hold'em poker, the highest-ranking hand is a royal flush, and the lowest hand is a high card
Best Starting Hands in Pot Limit Omaha Poker
If you have played other poker variants before, you should know that a strong starting hand can determine your game's success. A good starting hand makes a game easier for the player and can determine how you bet. Hence it is necessary to know Pot Limit Omaha poker's best-starting hands.
The best hand in Pot-Limit Omaha poker is a hand with a big pair. A hand with a pair of Aces or Kings is a good hand. Therefore, two pairs of Kings and Aces are the best hand. There should also be a connection between the cards. This is the case because it can easily turn into a royal flush, or a straight flush post-flop.
A pair of Aces and a pair of Queens also make a good starting hand. A pair of Aces with a 10 and a Jack is also a playable hand.
Pot Limit Omaha Poker Tips to Win
The winning hand in Pot Limit Pot is most often a straight nut. A pair or two pairs are less likely to win, this is because players have more cards to play. The showdown will also often consist of more players in Omaha poker than in Texas Hold'em poker. This is because players have more cards at their disposal in Omaha poker than in Texas Hold'em.
However, you can do a few things to improve your game. Here are our tips for Pot Limit Omaha poker:
Don't rely too much on bluffing.
Although you can bluff your way to a win when playing other poker variants, bluffing in Omaha poker will not get you very far. Strength in this poker variant lies in a strong hand. Remember, each of your opponents will have access to nine cards to make the best possible hand.
Avoid applying the No Limit Texas Hold'em Gameplay to Omaha.
This is a different poker variant; for example, a pair of Aces or two pairs is not as strong in this poker variant. So, avoid playing like it the way you would play Texas Hold'em. Always be ready to give up a hand that isn't a strong hand.
Know when to fold.
As mentioned, a couple of hand rankings might not be as strong in Omaha poker as they would in other poker variants. You should thus fold if you are holding a weak hand. A straight hand upwards is the best hand to play post-flop.
Don't play many hands.
Pot-Limit Omaha poker comprises many relatively poor hands than strong hands. Playing many hands will simply put you in a compromised position. Multiple hands might be a distraction that would send your chips down the drain. Apply this tip to other poker variants as well.
Practice for free
The best thing about practicing for free is that there is nothing to lose, and you can identify your shortfalls. This will help you avoid certain flows when playing for real money. Always use the free poker games to sharpen your skills.
You can check our poker strategies for more poker tips to win.
Pot Limit Omaha Poker Free
Fortunately, there are free Omaha poker games that you can play without risking your money. Our recommended casinos on the above table feature Pot Limit Omaha poker games that you can play without risk.
There are, however, no live games to play for free, and you also cannot win real money when you play for free. This is simply the best way to practice the game without risk. Playing free Pot-Limit Omaha poker will introduce you to the touch and feel of the game without you having to risk any money. We recommend that you start playing for free before making wagers using real money.
However, the best way to put yourself to the test is by playing for real money. We all know that we tend to be laid back and less careful when there is nothing to lose. Hence you should practice a couple of times for free and then play real money games once you have built some confidence.
More About Online Poker
Pot Limit Omaha Poker FAQs