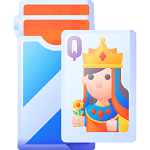 Learning how to play poker online is easy when you have the right guide to help you. You have come to the right place if you want to play like a poker pro. While there is an element of luck involved in poker, you need a lot of skill to play the game.
There are many different poker games that you can learn to play at online casino sites. These games include Texas Hold'em, Razz poker and many others. The best part is that you can do it in the comfort of your own home. So, if you want to learn how to play poker at home, then read this guide.
Best Poker Casinos Online
How to Play a Poker Game
Poker Hand Rankings
One of the first things you need to learn before you get into the gameplay in online poker is the hand rankings. Many beginner poker players don't know hand rankings and often think they have the winning hand when they don't. Below we have detailed out the different hand rankings in poker.
| | |
| --- | --- |
| Hand Name | Cards |
| Royal Flush | 10 A K Q J T (same suit) |
| Straight Flush | 9 8 7 6 5 (same suit) |
| Four of a Kind | Four cards of the same value, e.g. (A A A A ) |
| Full House | 3 of a kind + a pair |
| Flush | Cards all in the same suit (2 4 5 9 K) |
| Straight | A simple sequence like 6 5 4 3 2 |
| 3 of a Kind | 3 cards of the same value (6 6 6) |
| 2 -Pair | 2 pairs of the same value, e.g. ( 7 7 or 4 4) |
| Pair | Any pair like (3 3) |
| High-Card | Relating to the highest card in your hand. |
Poker hand ranking is not that hard to remember, and the best thing about playing online is that you don't have to memorise them. You can have another tab open on your desktop with the ranking to use as a reference.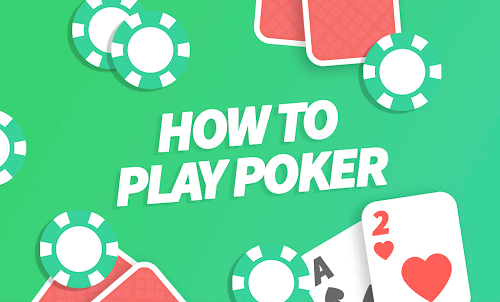 Deck of Cards
Poker is played with a standard 52-card deck, and sometimes you will find that two extra jokers are added. Sometimes, you may find that there are two decks of cards used to play the game. The second deck is used to speed up the casino game.
Learn How to Play Poker Online: Betting
Every player will receive four face-down cards from the dealer. Cards that are face down are called hole or pocket cards.
The first betting round will begin after the cards have been dealt.
When all the players have placed their bets, the dealer will burn a card. He/she will turn over three community cards that are facing up.
After that, the second betting round will start.
Then the dealer will burn another card. Then her will turn over a community card.
The third round of betting will start after the dealer has turned over another community card.
The third betting round will start, and after all the players have placed bets, the dealer will burn one more card. A community card will be turned over (the last community card is called the river).
There will be the last betting round that will start. After that, there will be a showdown. In the showdown, the remaining players are expected to reveal their cards. The first player to bet or raise is the one that shows their hand.
How to Play Poker: Terms
Poker has various terms that are unique to the game. If you're a new player, you might get confused by the terms. So, here is a cheat sheet of what the terms mean.
| | |
| --- | --- |
| Term | Definition |
| The Kitty | The kitty Is a fund that is established by taking the lowest valued chips from the pot. The kitty belongs to every player equally, and it's usually used to pay for new decks etc. |
| Chips | Poker is played with chips. So, in a game of 7 or more players, there should be 200 poker chips. |
| Banker | One player should be the designated banker. The banker keeps the stock of chips and records how many chips have been issued out. When you are playing online, this process is automated. |
| Betting Limits | You will be able to set your betting limit when you are playing. A betting limit is how much you are willing to spend during a game. |
| Fixed Limit | Before the game is played, a fixed limit will be set. That means that every player is not allowed to raise more than the set number of chips. |
| Pot Limit | Your bets or raises are only limited to the number of chips that are in the pot. |
| Table Stakes | You are not allowed to withdraw any chips or return chips to the banker in table stakes until you have left the game. |
| Poverty Poker | Poverty poker means that a limit is placed on the number of chips a player can lose. Each player will receive a stack at the beginning of the game. If you lose the stack, the banker will give you another stack without charging for it. |
| Wild Cards | In a game, when the dealer decides what type of game is played. Some cards may be designated as wild. |
Learning How to Play Poker Online: Strategy
Know When to Bet
The best thing you can do for yourself when playing poker is to learn the best way to bet. So, the less likely you are to get a certain hand, the more the hand will rank. That means that the odds of winning the pot are higher.
So, you should not expect to be dealt a straight flush more than once when you are playing. However, you can expect to be dealt a two-pair hand in every 21 hands. Therefore, you should not place a bet unless you are confident you have the right hand for it.
More Online Poker Guides