What is a Wagering Requirement?
Recently updated on November 2nd, 2023
In online gambling, understanding a wagering requirement is crucial for Australian players. Wagering requirements determine how many times players must play through a bonus before they can withdraw their real money winnings.
These requirements are commonly associated with casino bonuses and can vary across different online casinos. Australian players can grasp the ins and outs of bonus wagering requirements. Then, make informed decisions and maximise their chances of winning.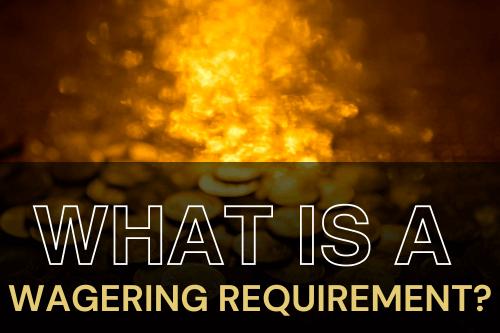 What is a Wagering Requirement?
A wagering requirement is a condition determining how many times players must bet their bonus amount. This must be done before they can cash out any winnings.
If a player claims a $20 bonus with a 10x wagering requirement, they would need to wager $200 before they can withdraw their winnings. Australian players need to understand this concept to avoid any surprises when claiming bonus money.
How Do Wagering Requirements Work?
When players claim a bonus with specific wagering requirements, any winnings they generate while playing with the bonus are placed in a pending balance. These funds are not immediately withdrawable.
Instead, players must meet the specified wagering requirements to release the funds into their real balance. This means that players need to continue playing casino games and wagering until they have met the required conditions.
Example 1: Deposit + Bonus Wagering
Supposing you deposit $75 and get a 100% match bonus, totalling $75 in bonus funds. The wagering requirement for this bonus is 30x the deposit plus bonus amount. Calculating the total amount you need to wager:
Deposit amount: $75
Bonus amount: $75
Total amount: $75 + $75 = $150
Wagering requirement: 30x
Total wagering requirement: $150 x 30 = $4,500
Example 2: Bonus Amount Wagering
Let's say you claim a bonus of $50 with a wagering requirement of 20x the bonus amount. To calculate the total amount you need to wager:
Bonus amount: $50
Wagering requirement: 20x
Total wagering requirement: $50 x 20 = $1,000
Example 3: Spin Winnings Wagering
Suppose you receive 50 free spins as part of a promotion. But any winnings from these spins are subject to a wagering requirement of 25x. Let's say you win $20 from the free spins. To calculate the total amount you need to wager:
Winnings from free spins: $20
Wagering requirement: 25x
Total wagering requirement: $20 x 25 = $500
Why a Wagering Requirement Exists
Online casinos impose wagering requirements for several reasons. Firstly, they act as a marketing tool to attract new players. By offering bonuses with wagering requirements, casinos can entice players to sign up and try their games.
Additionally, wagering requirements help casinos sustain themselves financially. Without these requirements, casinos would be at risk of losing more than they invest. Wagering requirements also serve as a measure to prevent money laundering and fraudulent activities on gambling platforms.
Types of Wagering
There are different types of wagering involved in meeting wagering requirements. One type is deposit amount wagering, where the wagering requirement is tied to the sum deposited to claim the bonus.
Another type is bonus amount wagering, which applies only to the bonus funds received. Deposit + bonus wagering you must play through the total sum generated by adding the bonus amount to the initial deposit amount. Deposit + bonus + winnings wagering is rarer and applies to promotions that offer both bonus credit and extra spins.
Wagering Deduction
Wagering deduction refers to how bets are deducted from a player's virtual balance to meet the requirements. Online casino accounts typically have two available balances:
The Real Balance, Which Consists Of Funds Deposited From The Player's Payment Service,
And The Bonus Balance, Which Comprises Bonus Funds Received From The Casino.
When wagering, players can use their real balance, but it won't count towards meeting the specified requirements. The advantage is that players can deposit multiple times to fulfil the requirements, even if they deposit more than they plan to cash out from the bonus.
No Wagering Offers
For Australian players seeking a more straightforward gambling experience, no-wagering offers are an attractive option. These bonuses do not have any playthrough conditions, allowing players to cash out their winnings without additional restrictions.
No wagering offers can apply to various promotions, including extra spins and bonus funds. Australian players can find a wide range of no-wagering offers on reputable gambling sites, which provide a hassle-free and transparent gaming experience.
Limitations and Restrictions
While no wagering offers may seem appealing, it's essential to be aware of their limitations and restrictions. Some no-wagering bonuses may have smaller bonus values or low cashout limits.
Additionally, certain games may be restricted when using the bonus, and some payment methods may not be eligible for redeeming the promotion. It's crucial for Australian players to carefully read the terms and conditions of any bonus to understand the limitations and ensure a smooth gaming experience.
Tips for Clearing Wagering Requirements Efficiently
To navigate and complete wagering requirements efficiently, Australian players can follow these tips. Firstly, they should choose online casinos with lower wagering requirements, such as 15x, 20x, or 25x.
This reduces the amount they need to wager to meet the requirements. Secondly, players should play games with a high wagering contribution, such as slots with a 100% contribution. Checking the Return to Player (RTP) percentage of games can also help players select games with higher chances of completing wagering requirements without depositing additional funds.
Bonus Wagering Requirement Explained
Understanding wagering requirements is crucial for Australian players engaging in online gambling. By comprehending the concept and types of wagering, players can make informed decisions when claiming bonus offers.
It's important to be aware of the limitations and restrictions associated with wagering requirements. And to choose reputable online casinos that offer fair and transparent terms. By following tips for clearing wagering requirements efficiently, Australian players can enhance their overall gambling experience and enjoy responsible gaming.
What is a Wagering Requirement? – Casino Bonuses Explained
What is a Wagering Requirement? Our experts explain the best ways to meet casino bonus wagering requirements for Australian players.