Lucky Adventure Tournament at Bitvegas Casino
Recently updated on November 9th, 2023
Join the Lucky Adventure Tournament at Bitvegas Casino and win big! Are you ready to embark on an unforgettable journey filled with excitement, challenges, and the chance to win bountiful cash prizes? Look no further than the Lucky Adventure Tournament at Bitvegas Casino!
From November 3 to November 28, this captivating tournament will take you on a thrilling ride through Smartsoft slot games. With a prize pool of A$60,000 and two stages of intense competition, this is your chance to showcase your skills, climb the leaderboard, and claim your share of the rewards. So, gear up, join the Lucky Adventure Tournament, and let the adventure begin!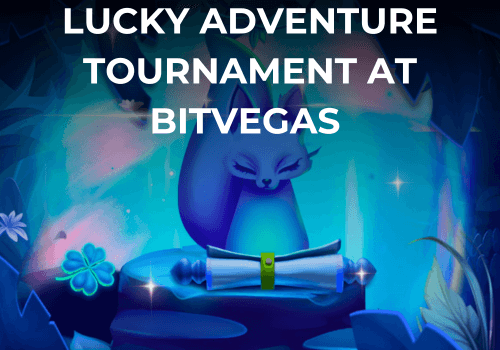 Lucky Adventure Tournament Overview
The Lucky Adventure Tournament is divided into two stages, each with a treasure trove of A$30,000 up for grabs. Powered by Smartsoft slot games, this tournament will take you on a journey filled with challenges and excitement.
To conquer these challenges, you must complete two riveting missions that will put your skills to the test. Only by conquering these missions can you earn points and climb the leaderboard. The top 500 scorers will be rewarded with generous cash prizes, making this tournament an adventure worth embarking on!
Lucky Adventure Prize Table
The Lucky Adventure Tournament offers an enticing prize table with a total prize pool of A$60,000. The top-ranked player will walk away with a grand prize of A$3,000, while the second and third place winners will receive A$2,250 and A$1,875, respectively.
The rewards continue to cascade down the leaderboard, with A$1,500 for fourth place, A$1,125 for fifth place, and A$525 for the sixth to tenth positions. Even if you don't make it to the top, there are still cash prizes waiting for those who secure a spot within the top 500.
Qualifying Games
The Lucky Adventure Tournament features an impressive lineup of Smartsoft slot games that will keep you entertained throughout the competition. From the adrenaline-pumping JetX to the icy thrills of Burning Ice, there's a game for every adventurer. Other exciting titles include Football X, Cricket X, PlinkoX, and many more.
Before diving into the tournament, take some time to explore these games for fun. Familiarize yourself with their mechanics, features, and themes to maximize your chances of success in the tournament.
Lucky Adventure Tournament Timeline
The Lucky Adventure Tournament is divided into two stages, each with its own timeframe. The first stage runs from November 3 to November 15, while the second stage takes place from November 16 to November 28.
During these stages, players must complete missions to earn spins on the leaderboard wheel and accumulate points. There are two types of missions: the turnover mission and the multiplier mission.
In the turnover mission, players must complete ten different phases each day. Each phase requires a specific total bet amount, starting from €0.10 and increasing with each subsequent phase. Once a phase is completed, players receive a spin on the leaderboard wheel. The multiplier mission, on the other hand, rewards players with spins on the points wheel when they hit a multiplier of X400 or higher. If a player achieves a multiplier of 850X, they receive two spins on the wheel.
It's important to note that players can receive spins from both missions within a day, but there is a daily limit of ten spins from either mission or a combination of both. The missions reset at 00:00 (UTC:00) each day, giving players a chance to start anew and collect more spins and points.
Tournament Terms and Conditions
To ensure fair play and a smooth tournament experience, certain terms and conditions apply to the Lucky Adventure Tournament. Firstly, participation is limited to real money bets only. The minimum bet required to participate is €0.10.
Players must adhere to the rules and requirements of the turnover and multiplier missions to earn spins and points. The player with the highest number of points at the end of the tournament will be declared the winner.
Cash prizes are credited to the winners' accounts as withdrawable funds in 3 business days (72 hours) after the tournament concludes. It's important to note that Bitvegas Casino reserves the right to cancel or suspend the tournament temporarily and make changes to the campaign if necessary.
Your Lucky Adventure Awaits!
The Lucky Adventure Tournament at Bitvegas Casino offers an exhilarating opportunity for players to unleash their inner adventurer and compete for exciting cash prizes. As you embark on this thrilling journey, remember to gamble responsibly and within your means. Set limits for yourself, both in terms of time and money, and always prioritize enjoyment over excessive risk-taking.
Stay updated on the tournament by enabling promotional emails and SMS notifications in your account settings. Bitvegas Casino will keep you informed about the latest updates, ensuring that you never miss out on any exciting developments.
So, are you ready to take on the Lucky Adventure Tournament? Join now and let the games begin!