Why Does the House Always Win?
It's common to wonder, "why does the house always win?" when gambling at casinos in Australia. Sometimes, the odds are stacked against you, and you're partially right. Casinos have a built-in profitability model that ensures they can operate after someone wins big.
This makes sense when you factor in licensing costs, staffing, and gaming deals. However, we recommend researching any casino before playing for questionable practices. Many skew the odds even further, which we get into below.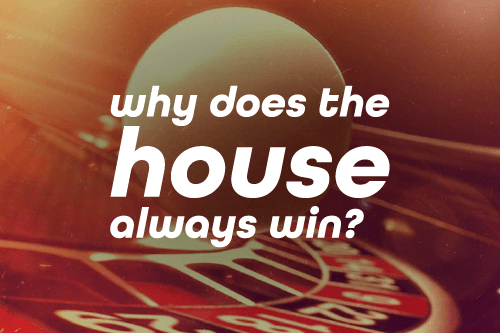 Online Casino Business Model
The house always wins because it has to make a profit:
Its model has multiple advantages built into it to ensure it wins back what it loses.
These are called the "house edge" and represent the casino's average profit from games built into every wager.
Extended gameplay shortens your odds of winning because your play will eventually match the edge, and you'll lose money.
The house edge varies between casino games, though blackjack is the lowest and keno the highest.
Which Casino Games Have the Highest House Edge?
So, if the house wins anyway, which casino games have the best odds for players? Blackjack has the lowest house edge, but you must find the best return-to-player percentage games and use the perfect strategy.
Classic blackjack has a 0.31% edge if there's a single deck. However, most casinos only offer multi-deck variants to boost profits and prevent card counting.
Meanwhile, American Roulette has the highest advantage at 5.26%, which explains why most casinos offer multiple tables. There's less money in French or European, so they limit the roulette tables featuring a single zero.
Similarly, slot machines have some of the worst odds for players. Especially if the casino limits the betting options and only offers low RTP games.
Land-Based vs. Online Casino House Edge
So, what's the difference between the house edge at online and land-based casinos? You first get bonus funds at online gambling sites to play the games. Moreover, the games have an advertised house edge and proof that they payout.
Long-running online casinos offer table games, video poker, and online slots, a broader selection than brick-and-mortar sites. So, you get cash, and you can experience Las Vegas-style games without paying above your gambling budget for drinks or food.
Why Players Gamble Against the House Anyway
Australian players choose to gamble against the house because they stand to win a life-changing amount of money. Knowing that the casino industry has a business plan doesn't affect their hopes.
Of course, the cunning gambler gets further than a casual one. So, it helps to use casino odds in your favour to get more bang for your buck.
Just ensure that what you spend doesn't exceed your winnings, and you'll be singing to the bank.