Unleash the Power of Ancient Egypt in SunWind on 23 August
Get ready to embark on an exhilarating journey to Ancient Egypt with SunWind, the latest release from Swintt! Brace yourself for sky-high wins as Cleopatra and Pharaoh reward you in this captivating 5×3 video slot game. With its Sun Re-Spin Feature, Free Spins with Expanding Lucky Symbols, and 5 fixed pay lines, SunWind promises an unforgettable gaming experience.
Immerse yourself in the mystical world of pyramids and pharaohs as you uncover hidden treasures and unlock the secrets of the Sun. Mark your calendars for 23 August and prepare to unleash the power of the Sun in SunWind!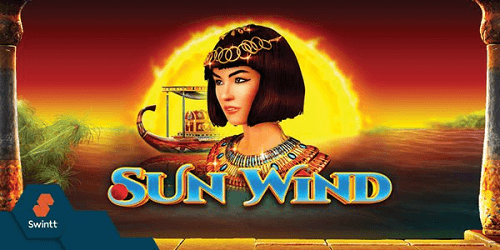 Unleash the Power of the Sun: Dive into the World of SunWind!
SunWind is an exciting video slot game that will transport players to the enchanting world of Ancient Egypt. With its 5×3 layout and 5 fixed pay lines, this game offers a thrilling gameplay experience. Land 3 Sun Symbols on the reels to trigger the Sun Re-Spin Feature, where the sums from the Sun Symbols are added up and multiplied, leading to potentially massive wins.
Additionally, 3 or more Scatter Symbols will activate 10 Free Spins, during which a Lucky Symbol is randomly chosen to expand on whole reels, increasing the chances of hitting impressive combinations. With its low volatility and a maximum win multiplier of 5,000x, SunWind will keep players on the edge of their seats.
Experience Unforgettable Wins: Discover the Thrilling Features of SunWind
SunWind stands out with its innovative features that offer players exciting opportunities to win big. The Sun Re-Spin Feature adds a unique twist to the gameplay, allowing players to accumulate Sun Symbols and multiply their bets. The Free Spins feature and Expanding Lucky Symbols create an electrifying atmosphere as players chase after those massive wins.
Moreover, the dual functionality of Scatter Symbols as Wild Symbols adds an extra layer of excitement and increases the chances of hitting winning combinations. SunWind truly offers a gaming experience like no other.
Journey to Ancient Egypt: Immerse Yourself in Engaging Visuals
Prepare to be captivated by the stunning visuals of SunWind. The game's graphics beautifully depict the splendour of Ancient Egypt, with intricate details and vibrant colours that bring the theme to life.
From the majestic pyramids to the iconic symbols of Egyptian mythology, every game element is designed to immerse players in this ancient civilization's rich history and allure. The visual appeal of SunWind is sure to leave players in awe and enhance their overall gaming experience.
Play SunWind Today and Claim Exclusive Bonuses!
Don't miss out on the chance to experience the thrill of SunWind! Visit our affiliate website and be among the first to play this exciting new game. With its enticing features and potential for sky-high wins, SunWind promises an unforgettable gaming adventure.
Click the provided link or button to access the game and start your journey to Ancient Egypt today. Remember to take advantage of any special promotions or bonuses available exclusively through our affiliate partnership.
Uncover Treasures in SunWind's Ancient Egypt!
Get ready to embark on an epic adventure in SunWind, the latest release from Swintt. With its immersive gameplay, innovative features, and captivating visuals, this Ancient Egyptian-themed video slot game is set to take the gaming world by storm.
Whether you're a fan of high volatility or seeking thrilling bonus features, SunWind has something for everyone. Mark your calendars for 23 August and prepare to be dazzled by the power of the Sun. Don't miss out on this opportunity to uncover hidden treasures and experience the excitement of SunWind!