Power of the Vikings – A Thrilling New Release from Booming Games
Prepare to embark on an epic adventure as Booming Games unleashes its latest creation, Power of the Vikings. Set to be released on 7 September 2023, this highly anticipated game promises to captivate players with its immersive gameplay and exciting features.
Let's delve into the world of Power of the Vikings, explore its unique elements, and discover where you can experience this thrilling game.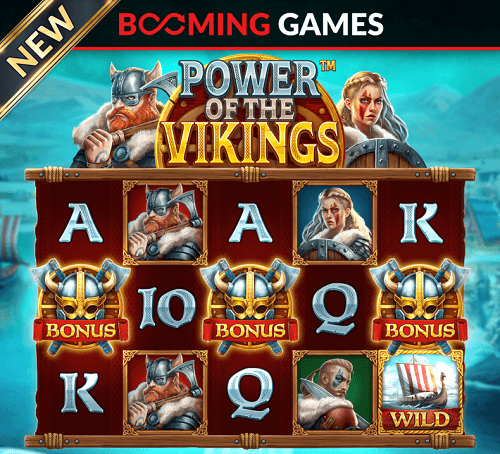 Overview of the Power of the Vikings
Power of the Vikings takes players on a journey through the rich and mythical world of Norse culture. As you spin the reels, you'll encounter a range of exciting features that will keep you on the edge of your seat.
Brace yourself for the power of Random Wilds, where up to 6 wild symbols can land in the base game and up to 10 during Free Spins. The game also introduces Multiplier Wilds, which can appear anytime, offering multiplier values of 2x, 3x, or 5x.
Prepare for colossal wins with the mighty Colossal Wilds, which can land in sizes 2×2, 3×3, or 4×3. Triggering 3 Scatters will unlock 5 Free Spins, complete with guaranteed Wilds. With its medium-high volatility and a max win factor of 27.12%, Power of the Vikings promises an exhilarating gaming experience that will transport you to the heart of Viking mythology.
Release Locations
Power of the Vikings will be available for players across various online gaming platforms. Booming Games has partnered with numerous reputable online casinos to ensure that players worldwide can access this thrilling game.
Whether you prefer desktop or mobile gaming, it will be accessible on multiple devices, allowing you to immerse yourself in the Viking world anytime, anywhere.
Immerse Yourself in the Viking World
Prepare to be captivated by the stunning visuals, immersive sound effects, and engaging gameplay of the pokie. The game's intricate design and attention to detail bring the Viking era to life, allowing players to feel like true warriors on a quest for glory.
From the moment you enter the game, you'll be transported to a world of ancient legends and epic battles, where the power of the Vikings reigns supreme.
Conclusion: Play Power of the Vikings
As the release date of Power of the Vikings approaches, anticipation is building among gaming enthusiasts. Overall, Booming Games has crafted a game that combines thrilling gameplay, captivating features, and the allure of Norse mythology.
Whether you're a fan of Viking-themed adventures or simply seeking an exciting gaming experience, Power of the Vikings promises to deliver. Prepare to unleash the power of the Norse and embark on an unforgettable journey through a world of legends and conquests.