Recently updated on September 26th, 2023

Learning how to play blackjack online is easy with AcePokies.com's comprehensive guide. In this informative resource, we'll lead you through the exciting world of virtual blackjack, where the thrill of the game awaits at your fingertips.
Our step-by-step instructions, tips, and strategies will help newcomers and experienced players sharpen their skills and maximise their online blackjack experience. Whether you're seeking to grasp the basics or elevate your gameplay, our guide has you covered. So, let's dive right in and explore the ins and outs of online blackjack gaming!
Best Australian Blackjack Online Casinos 2023
How to Start Playing Blackjack Online
Getting started with online blackjack is a straightforward process that involves a few key steps:
Understanding Blackjack Basics
Before you dive into playing blackjack online, it's essential to grasp the fundamental concepts of the game. Here's what you need to know: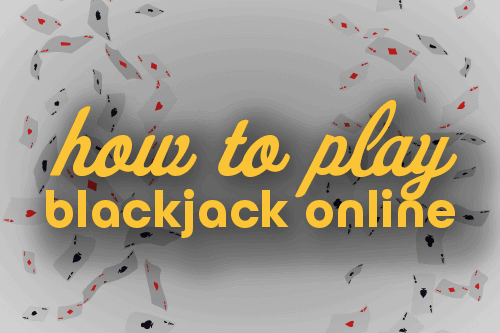 Objective of Blackjack
The primary goal of blackjack is simple: you aim to beat the dealer's hand without exceeding 21  points.
Each card in the deck has a point value:
Face cards (Kings, Queens, and Jacks) are worth 10,
Numbered cards are worth their noted value,
Aces can be one or 11 points, depending on what benefits your hand the most.
Card Values and Hand Rankings
Blackjack hands are ranked based on their point total.
A "blackjack" or a "natural" is the best hand, consisting of an Ace and a 10-value card (10, Jack, Queen, or King), and it pays more than other winning hands.
Other winning hands include having a hand value closer to 21  than the dealer's without busting (exceeding 21).
Gameplay Basics
You and the dealer each receive two cards at the start of a round.
Typically, you can see one of the dealer's cards while the other remains face-down until the end of the round.
You then have several options for how to proceed:
Hit: Request another card to increase your hand value.
Stand: Keep your current hand and end your turn.
Double Down: Double your initial bet and receive one more card.
Split: If you have two cards of the same rank, you can split them into two hands, each with its bet.
Winning and Losing
You win the round if your hand total is closer to 21 than the dealer's without busting.
If your hand exceeds 21, you bust and automatically lose.
If you and the dealer have the same total, it's a "push," and you get your bet back.
Blackjack typically pays out at 3:2, meaning you receive 1.5 times your bet if you have a blackjack hand.
Blackjack Dealer's Role
The dealer follows specific rules that dictate their actions, such as hitting until they reach a certain total (often 17 or higher) and standing once they get that total.
The dealer's actions are automatic and not influenced by strategy.
Mastering Advanced Blackjack Strategies
Once you've got a solid grip on the basic rules of blackjack, it's time to explore advanced strategies that can significantly improve your chances of winning. In this section, we'll break down when to employ key actions like "Hit," "Stand," and "Double Down" to maximise your advantage in online blackjack:
Sharpening Your Skills on Free Blackjack Games
One of the most valuable tools at your disposal in becoming a proficient blackjack player is practice. Whether new to the game or aiming to refine your strategies, dedicated practice, and free blackjack games can make a significant difference in your performance.
Common Mistakes to Avoid in Blackjack
In the dynamic blackjack world, understanding the game's intricacies is crucial. Equally important is recognising and steering clear of common mistakes that can erode your bankroll and hinder your success. Here are some prevalent pitfalls to watch out for:
Overvaluing Hands: A common error is overestimating the strength of your hand and refusing to hit when it's strategically advisable. Avoid the temptation to stand on an indicator that can be improved without busting.
Chasing Losses: Trying to recoup losses by increasing your bets can lead to substantial financial setbacks. Stick to your predetermined budget and avoid chasing losses, as this can result in further financial trouble.
Not Paying Attention to Dealer's Upcard: Ignoring the dealer's upcard can be detrimental. It's a crucial piece of information that should influence your decisions. Be sure to adapt your strategy based on the dealer's visible card.
Splitting and Doubling Down Carelessly: Splitting pairs and doubling down is powerful when used judiciously. However, doing so without considering the game situation can lead to unnecessary losses.
Not Understanding Variations: Different blackjack variants may have slightly altered rules. Failing to understand these variations can lead to confusion and incorrect decisions. Always familiarise yourself with the specific rules of the game you're playing.
Superstitious Beliefs: Some players rely on superstitions or gut feelings rather than sound strategy. While luck can play a role in the short term, depending on superstitions in the long run is not a winning strategy.
Emotional Decision-Making: Allowing emotions like frustration or excitement to dictate your gameplay is a significant mistake. Maintain a cool and calculated demeanour to make rational decisions.
More Blackjack Guides
How to Play Blackjack Online FAQs