Can Casinos Legally Cancel My Bonus?
Recently updated on October 2nd, 2023
Many players are curious about whether casinos can legally cancel a bonus or how they can choose to void an offer. Understanding casino bonuses' regulations is crucial for Australian players to ensure a fair and enjoyable gaming experience.
In this comprehensive guide, we will explore the topic of bonus cancellation in Australian casinos. We will discuss the regulatory bodies overseeing the gambling industry and the importance of reading and comprehending bonus terms and conditions.
Plus, discover the common reasons why a casino might cancel your bonus. Let's dive into the details and empower you with the needed knowledge.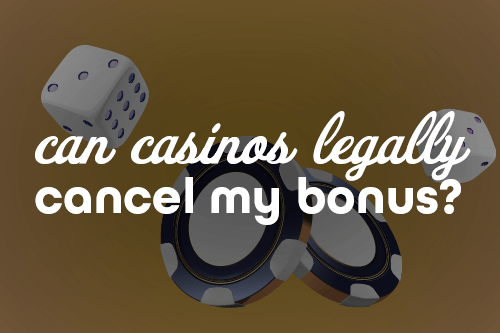 Understanding Casino Bonus Terms and Conditions
For online casino bonuses, it is critical that players properly read and comprehend the terms and conditions. These terms define the regulations and requirements for using the bonus and can differ between casinos. Players can avoid errors and ensure a pleasant bonus experience by taking the time to understand the terms.
Always browse bonus offers effectively and maximise your chances of winning by complying with them. Remember that each casino may have its unique set of terms and conditions, so read them before claiming anything.
Clear Communication and Transparency
Reputable online casinos strive to provide their players with clear and transparent bonus terms and conditions. They ensure the rules are easily accessible and clearly stated on their website. This transparency allows players to make informed decisions and understand the rules and requirements associated with the active bonus.
Clearing Up Confusion
If players have any doubts or questions regarding the bonus terms and conditions, it is recommended to contact the casino's customer support for explanation. Customer support representatives are there to assist players and provide the necessary information to ensure a smooth and enjoyable bonus experience.
Common Reasons for Bonus Cancellation
There are several reasons why a casino may cancel your bonus. One common reason is irregular play, which refers to betting patterns or strategies that go against the casino's terms and conditions. Examples of inconsistent play include betting above a certain percentage of your bonus or deposit.
Multiple Accounts: A Breach of Casino Policies
Maintaining multiple accounts at the same casino is strictly prohibited. This practice breaches the casino's policies and can lead to bonus cancellation, account closure, or even a ban from creating future accounts. It is important to adhere to the casino's rules and regulations to avoid any issues.
Fraudulent Activities: A Serious Offense
Engaging in fraudulent activities is a severe offence that can cancel your bonus and permanently close your account. Fraudulent activities include registering stolen credit cards, money laundering, forgery, or using false information during registration or the Know Your Customer (KYC) process. Casinos take these activities very seriously and may even pursue legal action.
Bonus Abuse and Bonus Hunting
Bonus abuse refers to exploiting bonuses by not using them immediately or stacking them with other promotions. This practice is against the casino's terms and conditions and can lead to bonus cancellation. On the other hand, bonus hunting involves quickly claiming and using a bonus, then moving on to another casino for a new promotion. Casinos closely monitor player patterns to identify bonus abusers and hunters.
Other Reasons for Bonus Cancellation
Collusion, VPN usage, and exploiting technical errors are additional reasons a casino may cancel your bonus. Collusion involves cheating by exchanging card information or playing at the same table to the detriment of other players. Using VPN software to access bonuses for players from other countries is also prohibited. Exploiting temporary technical errors can result in the cancellation of active promotions.
Tips to Avoid Bonus Cancellation
To avoid having your bonus cancelled, follow our quick tips:
What to Do if Casinos Cancel Bonuses
You can take certain steps if you believe your bonus has been wrongfully cancelled. First, contact customer support to seek an explanation for the cancellation. If the issue remains unresolved, you can seek mediation through reputable websites or forums that assist with player-casino disputes. As a last resort, you can contact the relevant regulatory authority, such as the ACMA, for further assistance.
Casino Regulations in Australia
In Australia, the gambling industry is regulated by various bodies to ensure fair and responsible gaming practices. The Australian Communications and Media Authority (ACMA) is the primary regulatory authority that oversees online gambling activities. The ACMA is responsible for enforcing the Interactive Gambling Act 2001, which prohibits providing and advertising certain interactive gambling services to Australian residents.
Online casinos must obtain a state or territory regulatory authority license to operate legally in Australia. These authorities include the Northern Territory Racing Commission, the Victorian Commission for Gambling and Liquor Regulation, and the New South Wales Independent Liquor and Gaming Authority. These regulators ensure that casinos comply with strict standards regarding player protection, fair gaming, and responsible gambling practices.
Playing at licensed and regulated casinos is crucial for Australian players as it assures their rights. Licensed casinos must adhere to specific rules and regulations, including bonus offers and cancellation policies. By choosing licensed casinos, players can have confidence in the fairness and integrity of the gaming experience.
Players need to verify the licensing information of an online casino before engaging in any gambling activities. This information is typically displayed on the casino's website and can be cross-checked with the relevant regulatory authority. Players can enjoy a secure and regulated gambling environment by playing at licensed casinos operating in Australia.
So, Can Casinos Legally Cancel My Bonus?
Understanding and adhering to casino bonus terms and conditions is crucial for players to have a positive and rewarding gaming experience. By actively reading the rules, players can avoid mistakes and ensure they meet the requirements for using the bonus.
Clear communication and transparency from reputable casinos help players make informed decisions. If any doubts arise, we recommend contacting the support team through live chat or email.
By following the terms and conditions, players can navigate bonuses effectively and maximise their chances of enjoying the benefits they offer. Remember, each casino may have unique policies, so reviewing them is essential before claiming any bonuses.
Disclaimer: The information provided in this blog is based on our research and analysis. It is essential to refer to each casino platform's specific terms and conditions for accurate and up-to-date information.